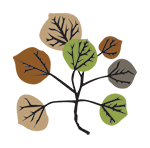 Welcome to ASPEN SUMMIT AT SUNRIDGE HILLS!
Here you will find information about the community. Feel free to contact us if you have any questions.
HOA Dues:
HOA dues for Aspen Summit are due on the 1st of each month and late after the 10th. To make a payment please go to the MAKE A PAYMENT page located under the HOMEOWNER INFORMATION tab. For more payment options please click here. To view your account balance and history please visit the ACCOUNT HISTORY page.
Modify Your Home:
You will need to fill out an ACC form with can be found on the DOCUMENTS page located under the COMMUNITY INFORMATION tab. It is located under the Homeowner Forms folder. This form will need to be mailed in to our correspondence address at P.O. Box 1006, OREM, UT 84058 or emailed to hoahelp@amres.co.
Community Covenants:
These can be found on the DOCUMENTS page located under the COMMUNITY INFORMATION tab.
What is Covered with your HOA Dues:
This information can be found on the Budget. Go to the DOCUMENTS page located under the COMMUNITY INFORMATION tab to find a copy of the budget.
Maintenance:
Please go to the MAINTENANCE page for more information. You can also CLICK HERE to view a chart that shows what is the HOA Responsibility vs. Homeowner Responsibility.
Parking:
Garages must be used for vehicle parking and not for storage. Vehicles must be parked in the garages and not in the driveways. Parking is not allowed on the streets within the community at any time. (Slate Canyon Road is the closest place to park a vehicle on the street). Boats or RV's are not permitted to be parked/stored within the community.
Trash Cans:
Trash cans must be kept inside the garages and not in the driveways. Empty trash cans must be returned to garages the day of collection.
Snow Removal:
Please note the following regarding snow removal:
The Aspen Summit HOA removes snow on the driveways and sidewalks for all homes and throughout the community. The Street snow removal is provided by Provo City, as the streets are publicly owned and maintained by Provo City
Sidewalk and Driveway Snow removal is scheduled to start when the snow reached a depth of two inches or greater. Snow fall less than two inches will not be removed from the driveways and sidewalks under normal circumstances. Most often there is enough solar heat to melt accumulations less than two inches.
Snow removal has been requested to be completed by 9:00 am on days when snow fall accumulations reach more than two inches. But the actual timing of the removal may vary depending on the intensity and timing of the snow fall. The contractors will do their best to keep the driveways and walks cleared in a timely manner.